Whether you own a small business or a large corporation, it is important to protect your investment and savings. When it comes to your business, window tinting is an investment that will continue to pay for itself time and time again. In addition to enhancing building design and allowing for a more comfortable work environment, commercial window tinting also provides additional security and energy savings. To learn more about your options for commercial window tinting, call Sound Performance today.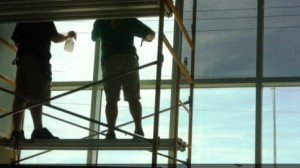 Natural sunlight can do wonders to boost the vitality of an office setting. Unfortunately, too much direct sunlight can be distracting as it causes glares and uncomfortable hotspots. The U.S. Department of Energy estimates that up to one-third of a building's cooling load is from solar heat gain through windows. When you're trying to maintain a comfortable climate in a large office building, those energy costs can really add up over time. The good news is, installing window tint from Sound Performance is a simple solution! Commecial window tint can reduce solar heat gain by up to 85%, and will significantly reduce your energy costs.
In addition to increasing energy efficiency, commercial window tinting helps reduce the fading of carpet, draperies, displays, and other textiles by blocking 99% of the sun's damaging ultraviolet rays. Protect your artwork, office furnishings, and other valuables by scheduling your commercial window tint with Sound Performance.
Along with protecting against the elements, commercial window tinting also protects your business and valuables against vandalism, attempted break-ins, and everyday accidents. Our strong window tint films hold glass in place should an impact occur, preventing any additional damage.
Commercial window tinting can be used on external or internal services to increase privacy, thereby boosting production. We offer a range of frosted and textured films which can also enhance the design of your office space, at a fraction of the cost of using frosted or etched glass.
At Sound Performance, we use only the highest quality commercial window tinting films. Available in a variety of finishes, including colored, mirrored, and plain black, our window tinting film is extremely durable and fully customizable. Sound Performance will provide you with precise and efficient commercial window tinting. In addition to retrofitting windows of all shapes and sizes, our skilled staff is equipped to cut and design custom graphics and logos in the windows of your business. For more information on our commercial window tinting services in the Columbia and Jefferson City region, contact us via phone or e-mail today!