iPod Integration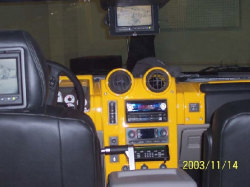 Move beyond the staticky FM transmitters and tangled wires of older style iPod connector systems—call Sound Performance for your iPod integration system. Using the latest technology, we can directly interface your iPod or mp3 player with your car audio system for the best in hassle-free operation and superior sound quality. Control your iPod from your stereo deck, enjoy static-free sound, and more. In fact, our iPod integration systems even charge your iPod for you so you're ready to go when you reach your destination. We offer several options in iPod integration from leading manufacturers like Amp and SoundGate, so we're sure to have one that's perfect for your vehicle and your needs. Call or e-mail Sound Performance today—we're ready to make your driving experience even more enjoyable with iPod integration!
Bluetooth Integration
Using your cell phone while you're behind the wheel can be dangerous—stay safe with a Bluetooth integration system from Sound Performance. With the convenience of hands-free operation and helpful features, you can drive and talk safely. Ideal for both business or personal use, Bluetooth integration systems are available with additional features like on-screen caller ID, voice dialing, voice command, touch screen dialing, voice texting, and more. Visit the Sound Performance showroom in Columbia or call today to learn more about Bluetooth integration and using your cell phone safely while you're on the road. We're ready to help you utilize the latest technology for safe driving!
Whether your objective is to integrate your Bluetooth, iPod, or other mobile device into your car audio system, you can always trust the knowledgeable staff at Sound Performance to do it right! Our experienced installers and sales staff will not only be able to accurately answer your questions about Bluetooth and iPod integration, but we have the technical skills and background to flawlessly install and integrate your mobile devices with your vehicle's sound system. Call or e-mail us to set up an appointment.
Why choose Sound Performance for your iPod integration and installation needs? In addition to our long-standing commitment to exceptional customer service, we also provide a lifetime workmanship warranty on all installation and iPod integration services performed by our staff. With over 20 years of experience in the installation of mobile electronics, we offer a level of expertise and knowledge that is not available from other iPod integration and installation services in the Columbia area. We also make it our business to offer competitive prices, quality products, and superior workmanship. When you need an experienced professional to handle your iPod integration or Bluetooth integration for you mobile audio system, you can always count on the skilled installers at Sound Performance. Contact us today for more details.