Take the best in mobile electronics with you anywhere you go—including out on your boat—with Sound Performance. In addition to our full line of car electronics, we're also pleased to offer marine audio sales and installation. When you want to enjoy awesome sound and even mobile video out on the water, we're your source for complete marine electronics. Call today to learn how our knowledgeable sales staff and expert installers can help you bring out the best in your boat with marine audio video!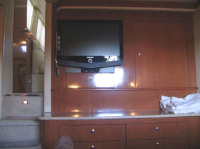 Looking to add a serious sound system to your wakeboarding boat? Want to enjoy some quiet tunes while you're fishing? Interested in enhancing your boating experience with a complete range of marine electronics? Sound Performance has the marine-grade components and qualified installers for truly superior marine stereos. We stock a variety of marine audio products, from speakers to amps, that are water-resistant to withstand the dripping and splashing of the marine application. And with more than a decade in business, we have the expertise and experience to correctly and competently install your marine electronics for great sound and water-tight performance. Sound Performance provides custom mobile electronics installation services, so you can be confident your marine audio system will look as fabulous as it sounds.
We're a local, family-owned business that really cares about your level of satisfaction with the marine audio electronics, stereo speakers, and other marine stereo components you purchase from us. One of the ways we demonstrate that commitment is by offering you a lifetime workmanship warranty on all marine electronics systems that we install. You'll find Sound Performance to be one of the most knowledgeable and service-oriented marine audio installers in the area, and we take pride in our competitive prices and top-notch workmanship. Whether you're in the market for marine stereo equipment or other marine audio electronics, call or e-mail us to find out how we can best serve you.
We invite you to visit our Columbia mobile electronics showroom to browse our selection of marine audio electronics and talk to our friendly staff about your boat and your needs. We're ready to help you get the ideal marine electronics for your listening style and personality as well as to provide superior installation service. If you're ready to experience the best in marine audio, it's time to give Sound Performance a call today!
Once you've chosen the marine audio system that best matches your tastes and your budget, we'll set up a custom installation so you can begin enjoying it as soon as possible!