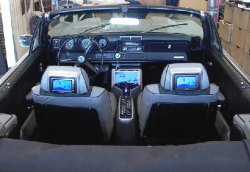 Bring out the best in your car with mobile video from Sound Performance. We're your source for complete, correct installation on a huge range of car DVD systems, videos screens, and more. Keep the kids quiet on long car trips or just show off for your friends. No matter why you want to upgrade to a car video system, Sound Performance has the components you need and the expert installers to ensure you get only the best custom installation. Drop by our car audio shop in Columbia to demo mobile video electronics or give us a call today!
We carry a broad range of mobile video products to help you get exactly the features and configuration you want. Sound Performance offers both stand-alone and integrated DVD players as well as a full collection of video screens. With a range of sizes and mounting options available, our selection of mobile video screens means the sky's practically the limit: we offer sun visor, headrest, fold-down, and dash-mounted (stationary and pop-up) screens. Sound Performance can even add video screens to your trunk or luggage compartment for the ultimate show vehicle! Other mobile video options include video game inputs and installs, infrared headphones, remote controls, and more. From basic car DVD players to complete mobile audio video entertainment systems, Sound Performance is the car audio shop with the products, skills, and expertise to do the job right.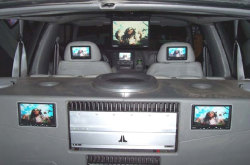 Sound Performance specializes in custom installation, meaning we have what it takes to design your car video system for optimal function AND fabulous appearance. From custom fiberglass and upholstery to custom configuration, we're here to create the mobile video system of your dreams. Our creativity and installation expertise has practically no end: we've installed video screens in steering wheels, trunks, speaker enclosures, and so much more. Our expert installers have the skills and knowledge to not only correctly install your mobile electronics, but to also make them look truly awesome. From sleek OEM appearance to unique custom car video installation, we're ready to help you bring out the absolute best in your car or truck. We frequently work on classic and luxury vehicles, so no matter what you drive, you can trust Sound Performance for accurate, complete, gorgeous mobile video!
To bring you the best in car video components as well as superior installation, Sound Performance only uses equipment from leading manufacturers, including:
Myron Davis
Freeway
Kenwood
Concept