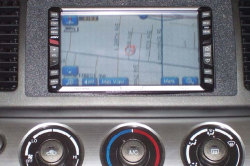 Car GPS makes it a breeze to reach your destination with ease. If you're tired of making wrong turns, getting lost, or getting turned around in unfamiliar areas, a navigation system is the answer you've been looking for. Call Sound Performance today to learn more about in-dash navigation and how it can make your driving woes a thing of the past!
Navigation systems provide convenient route guidance to help you get where you're going simply and safely: just follow the highlighted route to reach your destination. You'll never again need to read a map or fumble with printed directions while behind the wheel. In-car GPS offers guidance both visually and audibly, making it easy to stay on track even in heavy traffic or adverse weather conditions. With turn-by-turn guidance, easy touch-screen operation, and automatic rerouting to get you back on track if you miss a turn, in-dash navigation truly makes driving effortless! Many navigation systems also include point-of-interest mapping to help you locate stores, restaurants, gas stations, and other attractions. Visit the Sound Performance showroom today or call to learn more about upgrading to car GPS in your vehicle. Ask about our GPS tracking systems, too.
We offer a broad variety of in-car GPS systems, including standard in-dash navigation systems as well as portable units. Sound Performance can add a stand-alone GPS to your vehicle or install a fully integrated GPS/audio/video deck. Our expert installers will ensure your in-dash navigation system looks great, regardless of whether your vehicle came factory-equipped with a screen. Professional appearance and great performance are the hallmarks of a car GPS system from Sound Performance, no matter which product you select! Visit our showroom to demo GPS units, talk to our knowledgeable staff, or schedule your navigation system installation.
When you purchase a car GPS system from Sound Performance, you can do so with complete confidence. As a local, family-owned business that prides itself on top-quality workmanship, great service, and competitive prices, we go out of our way to make sure your GPS navigation system fully meets your needs and expectations. As a matter of fact, we provide a lifetime workmanship warranty on all navigation systems to let you know that we'll still be there for you after the sale. Find out today why Sound Performance was named one of the top 100 mobile electronic installers in the U.S.
Sound Performance carries navigation systems from Kenwood, a leader in the car GPS field. Call or stop by to find the car navigation GPS that's best suited to your needs, driving style, and budget.